Welcome to Anti-Gravity Trampoline...
Durham's only full service trampoline facility! Whatever you're looking for, you can find it here; recreation classes, drop in, camps, birthday parties, group bookings and one of the largest competitive teams in Ontario!
 Regular office hours are:   Tuesday 5:00 - 6:30pm, Wednesday 4:00 - 5:30 pm and Thursday 7:30 - 9:00pm. If you are trying to contact us outside of these hours, please email info@anti-gravity.ca. 
For the most up to date information about Anti-Gravity Trampoline please follow our Facebook Page.
Summer Camp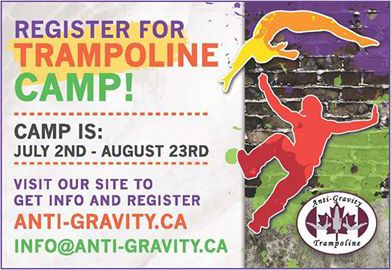 Drop In
Our fastest growing and most popular program, Drop In runs Friday nights from 6-9 pm and can be pre booked with a minimum of 3 participants throughout the weekend. Anyone can bounce and have the freedom to do their own thing. Our certified 'BOUNCERS' monitor the facility to ensure maximum safety for all participants.
.
 Drop In Calendar, check out available times for drop in.
Photo Gallery
Click here to view our full photo gallery.